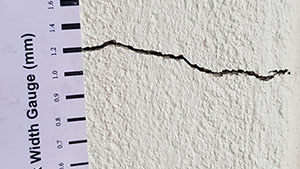 We inspect, analyse and report on failures and damage. Our goal is to uncover the cause of the issue, assess the structural significance of the damage, and recommend the most cost-effective rectification if required. We can help you with any structural issue you may have.
Forensic Engineering (failure investigation) is the area in which we provide specialty services that focus mainly on structural cracking from subsidence/settlement using accurate digital level measuring equipment. We also inspect and report on;
Cracks
Cracks to walls and ceilings
Slab/concrete cracks
Cracks and gaps through brickwork, plasterboard, cornices, etc.
Subsidence / Settlement / Consolidation
Uneven floors and slabs
Gaps appearing around doors, windows and trim
Sticking doors
Sagging ceilings
Broken stormwater pipes
Underpinning design
Storm, Fire, Flood & Impact Damage Assessments
Assessment of structural integrity of the structure after major events
Rectification design
"Make Safe" reports and designs
Insurance Claim reports
24 Hour emergency investigations
Retaining Walls
Leaning/rotated walls
Water ingress issues
Cracked or spalled concrete & masonry
Rot to timber walls
Pools
Cracks in the base, walls or coping
Erosion/scour surrounding the pool
Lips/edges formed between the pool and paving/surrounds
Everything Else!
Corrosion to steel beams, columns, reinforcement
Concrete cancer (spalling)
Timber rot, weathering and termite damage
Excessive bounce/sag to floors
Load bearing wall investigation
"As Constructed" certifications on pre-built structures
Floor level survey using NivComp digital measuring system
Pre-purchase dwelling inspections
Building and pest report review
QBCC / QCAT disputes
Litigious / Court matters
Heritage listed structure investigations
Anything else that is doing something you don't think it should be doing &nbsp
Get In Touch
Want to hire us or get a quote? We would love to do business with you.